AFFILIATED MEMBER OF THE WORLD SHITORYU KARATEDO FEDERATION
"WSKF"
 ONE MONTH FREE TRAINING and $35 uniform!    
Phone: 95630314 or 0411 096 936
Let every journey you take be the one to enjoy, embrace all of it, the good and the bad, it is all a learning. Honour the distance you have travelled and embrace what is to come.  Walk forward in the knowledge that you are in control, but always be mindful of the obstacles you may encounter.
Sensei, Perry Bell.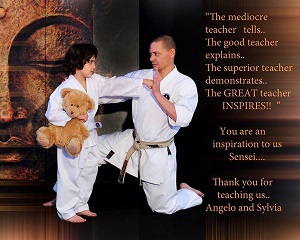 Martial Arts:

  Kids Karate   Adults Karate   Weapons   MMA
                         

            Fitness:  

Kickboxing   Cardio Karate   Personal Training   Group Training
                                             

     Strength & Relaxation:

  Yoga   Massage   Reflexology
Location:

1st Floor, Cnr Portman & Hanover Streets,
Oakleigh Victoria 3166